Build Your Camping Pass
Select up to 5 Thousand Trails Camping Pass Regions below. Also, get 100+ additional destinations for only $425/year with The Trails Collection.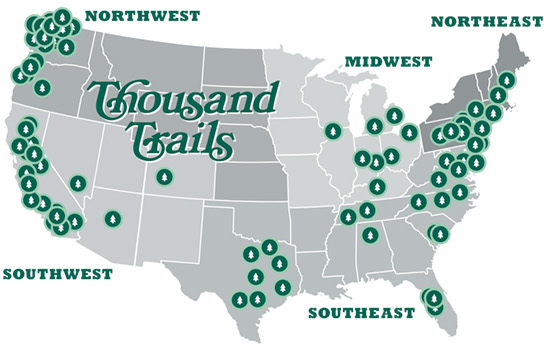 Southwest Region
Our 19 Campgrounds are located in Arizona, California, Colorado, Nevada
Southeast Region
Our 23 Campgrounds are located in Alabama, Florida, North Carolina, South Carolina, Tennessee, Texas, Virginia
Northwest Region
Our 18 Campgrounds are located in British Columbia, Oregon, Washington
Northeast Region
Our 14 Campgrounds are located in Maine, Massachusetts, New Jersey, New York, Pennsylvania
Midwest Region
Our 8 Campgrounds are located in Illinois, Indiana, Kentucky, Michigan, Ohio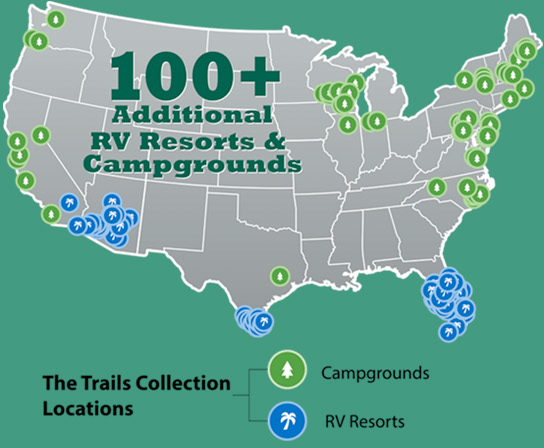 Add The Trails Collection
Get 100+ additional resorts and campgrounds for you and your family to enjoy! Add the Trails Collection for only $425/year
The Trails Collection offers you 100+ additional resorts and campgrounds from coast to coast in top vacation destinations like Lake Tahoe, Wisconsin Dells, Bar Harbor, and the Florida Keys!
Your Thousand Trails Camping Pass
Payment Information

You're protected by our 100% Money Back Guarantee! If you purchase a Thousand Trails Camping Pass and are not satisfied for any reason, you may cancel your purchase agreement and receive a refund. Click for Details »